Plácido Domingo bajo acusaciones multiples; Nueva York abre la puerta para sobrevivientes de abusos, y mas noticias
HAVANA TIMES – Presentamos las noticias internacionales en breve recopilada por Democracy Now el miércoles 14 de agosto, 2019.
Varias mujeres acusan a la estrella de ópera Plácido Domingo de conducta sexual inapropiada

La superestrella de ópera Plácido Domingo enfrenta acusaciones de conducta inapropiada de carácter sexual en el lugar de trabajo, presentadas por al menos nueve mujeres, que abarca un período de 30 años.
Las mujeres aseveran que Domingo las hostigaba regularmente e intentaba presionarlas para que entablaran relaciones sexuales con él. Varias de las acusadoras dicen que las besó a la fuerza o las tocó sin consentimiento.
En algunos casos, las contactó telefónicamente sin cesar a sus hogares, incluso a altas horas de la noche. Siete de las nueve acusadoras afirman que sus carreras se vieron negativamente afectadas después de rechazar sus insinuaciones.
Domingo, conocido por muchos como uno de los famosos "Tres Tenores", es actualmente director general de la Ópera de Los Ángeles. La compañía de ópera sostuvo que contrataría a un investigador externo para investigar las denuncias.
New York's "Child Victims Act" Opens Doors for Sexual Abuse Survivors to Get Justice in Courts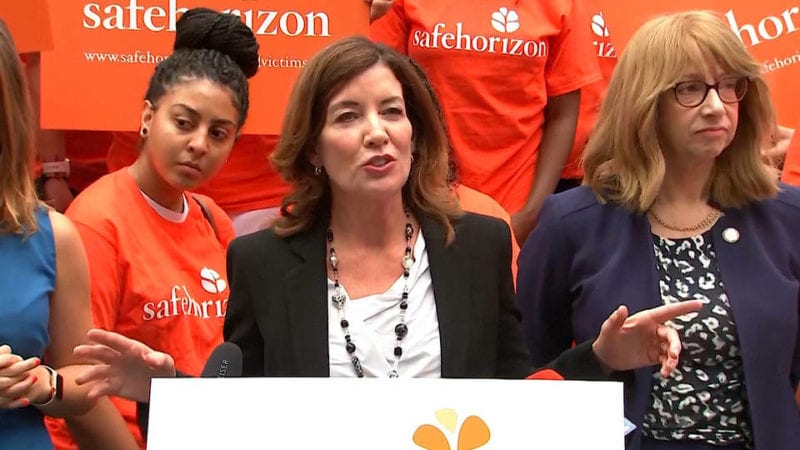 Starting today, survivors of childhood sexual abuse in New York, who previously could not bring their perpetrators to court due to statutes of limitations, will now be able to do so, as the new Child Victims Act goes into effect.
The new law allows prosecutors to bring criminal charges against alleged abusers until the accuser turns 28, while accusers can file a civil lawsuit until they reach the age of 55. In addition, the so-called lookback window will allow accusers of any age to bring charges against their alleged perpetrators — no matter how long ago the abuse occurred — for a period of one year, starting today. This is New York Lieutenant Governor Kathy Hochul speaking Tuesday.
Lt. Gov. Kathy Hochul: "To the perpetrators, the child molesters, the child abusers, the child predators, who made individuals grow up as adults with the worst nightmares you can imagine, today your victims will be your worst nightmare, because, starting tomorrow, they will see you in court. And I don't care if you're hiding in a rectory somewhere, if you're in a rocking chair in Florida. You will be found, and you will be brought to justice. It starts tomorrow here in New York."
New York is the fifth state to apply the "lookback window." Legal experts say major institutions that have faced sexual abuse scandals in recent years, including the Catholic Church in New York, are likely to face a litany of lawsuits.
Family of Saudi Women Rights Activist Says She Was Offered Release from Prison If She Denied Torture
The family of Saudi women's rights activist Loujain Al-Hathloul says she was offered a release from prison in exchange for taping a video retracting accusations she was tortured while behind bars — an offer she rejected. Hathloul was arrested in May of last year, along with four other women activists.
She led a movement to lift a ban on female drivers and overhaul the male guardianship system in Saudi Arabia. According to human rights groups and her family, Hathloul has since been held in solitary confinement and has been subjected to abuse, including electric shocks, flogging and threats of sexual violence. Hathloul's siblings say that Crown Prince Mohammed bin Salman's former top adviser, Saud al-Qahtani — who has been implicated in Washington Post columnist Jamal Khashoggi's murder — was present while she was being tortured, and threatened to rape and kill her. Click here to see our interview with Loujain's brother and sister, Walid and Lina Al-Hathloul.
Hong Kong Airport Resumes Flights as Chinese Tanks on Border Raise Questions About Military Action
Flights have resumed at Hong Kong International Airport after it was effectively shut down for two days due to a takeover by pro-democracy protesters. Tuesday saw new clashes between protesters and police forces, with several arrests taking place. Two men who were suspected of being undercover officers from mainland China were beaten by a group of protesters. One of the men turned out to be a reporter for the Communist Party-owned newspaper Global Times.
Some of the protesters apologized Wednesday for the disruption at the airport. A post on a messaging channel that was widely reposted read: "We apologize for our behavior but we are just too scared. Our police shot us, government betrayed us, social institutions failed us. Please help us."
Hong Kong's Beijing-aligned Chief Executive Carrie Lam warned Tuesday the protests are "pushing Hong Kong onto a path of no return," while China condemned the airport demonstrations as "near-terrorist acts."
Meanwhile, photos showing Chinese military tanks lining up in Shenzhen, near the Hong Kong border, started to spread Tuesday, raising fears of a possible military crackdown. China's official state newspaper, the People's Daily, published a statement saying the People's Armed Police are ready to counteract "riots, disturbance, major violence, and crime- and terrorism-related social security issues."
On Tuesday, President Trump tweeted, "Intelligence has informed us that the Chinese Government is moving troops to the Border with Hong Kong. Everyone should be calm and safe!" Democratic Connecticut Senator Chris Murphy tweeted in response, "This is not foreign policy."
Ken Cuccinelli Butchers Iconic Statue of Liberty Poem While Defending Trump Immigration Rule
Following condemnation of the new Trump administration rule limiting permanent status for low-income immigrants, acting Director of Citizenship and Immigration Services Ken Cuccinelli attempted to defend the new policy by rewriting the iconic Emma Lazarus poem on the Statue of Liberty. This is Cuccinelli speaking to NPR's Rachel Martin.
Rachel Martin: "Would you also agree that Emma Lazarus's words etched on the Statue of Liberty, 'Give me your tired, your poor,' are also part of the American ethos?"
Ken Cuccinelli: "They certainly are. Give me your tired and your poor, who can stand on their own two feet and who will not become a public charge. That plaque was put on the Statue of Liberty at almost the same time as the first public charge law was passed. Very interesting timing."
On Tuesday night, Cuccinelli defended his comments in an interview with CNN's Erin Burnett, suggesting Emma Lazarus's poem was written about "people coming from Europe."
Epstein Collaborators Sued as Questions over His Suicide Swirl
One of Jeffrey Epstein's accusers is suing his longtime associate and accused accomplice Ghislaine Maxwell and three other members of his household staff in the first lawsuit of its kind since the accused serial sex trafficker died by apparent suicide in his New York jail cell Saturday. Jennifer Araoz has accused Epstein of raping her when she was just 15 years old. She says Ghislaine Maxwell and the other unnamed staff members facilitated the abuse. It is one of the first lawsuits to be filed under New York's Child Victims Act, which takes effect today.
Meanwhile, questions are mounting surrounding Epstein's death. The warden at the Metropolitan Correctional Center in Manhattan has since been reassigned, and two guards who were tasked with monitoring Epstein were put on leave. Reports emerged Tuesday that the guards may have been sleeping during their shift, failing to check on Epstein for three hours and then falsifying time logs. They were supposed to check on him every 30 minutes. The facility, which has housed many high-profile prisoners, has been plagued with reports of understaffing, overcrowding and dire conditions for years. Mexican drug lord Joaquín "El Chapo" Guzmán called the prison "torture." The FBI, the Justice Department and the House Judiciary Committee have launched investigations into Epstein's death.
In related news, the FBI has raided Jeffrey Epstein's private Caribbean island. The FBI search is being overseen by the U.S. Attorney's Office for the Southern District of New York. On Monday, Attorney General William Barr assured Epstein's accusers that the case against Epstein would not end with his death and that "any co-conspirators should not rest easy."
Meanwhile, a flurry of speculations arose after it was revealed that a 4chan user posted about Jeffrey Epstein's death 38 minutes before the news became public on media outlets. The poster revealed information surrounding the death suggesting they may have been a first responder or otherwise present at the scene when Epstein's body was first discovered. The New York City Fire Department said they investigated the case and determined the information did not come from within their department.
Epstein claimed a net worth of more than half a billion dollars when asking to be released on bail, but lawyers for his accusers say they suspect his net worth to be much higher, and they will look to offshore bank accounts and Epstein's closest allies, including his brother Mark, for additional assets. The Wall Street Journal reports the brothers are connected financially through investments in a 200-unit condo building on the Upper East Side of Manhattan. Lawyer Lisa Bloom told the Journal, "We're just getting started." Click here to see our 2013 interview with Mark Epstein — on an unrelated issue. At the time, he was chair of the board of trustees of Cooper Union.
Trump Delays Tariffs on Some Chinese Goods
President Trump has delayed a 10% tariff on some Chinese goods, including cellphones, laptop computers, shoes and toys, until December 15. Other products will be spared from the tariffs altogether. Trump has repeatedly claimed that tariffs would only harm Chinese producers, but appeared to shift his rhetoric slightly Tuesday.
President Donald Trump: "Just in case they might have an impact on people, what we've done is we've delayed it so that they won't be relevant for the Christmas shopping season."
Around $112 billion of Chinese goods will be hit with the planned 10% tariff in September. Last week, the Treasury Department designated China a currency manipulator after it weakened its currency to an 11-year low.
Coalition of States and Cities Sue Trump Admin over Rollback of Coal Regulations
In environmental news, a group of 22 states, six cities and the District of Columbia sued the Trump administration Tuesday in an attempt to block the rollback of Obama-era regulations on emissions from coal-fired power plants. The new rules were announced by the Environmental Protection Agency in June and allow states to set their own regulations for emissions and decide whether coal-fired plants should make improvements. Obama's Clean Power Plan sought to lower carbon emissions through federal regulations, but the plan never took effect due to multiple legal challenges. The new lawsuit claims the EPA has a duty, under the Clean Air Act, to limit carbon emissions.
Letitia James, attorney general for New York, said in a statement, "Without significant course correction, we are careening towards a climate disaster. Rather than staying the course with policies aimed at fixing the problem and protecting people's health, safety, and the environment, the Trump Administration repealed the Clean Power Plan and replaced it with this 'Dirty Power' rule."
Indigenous Women Protest President Bolsonaro in Brasília
In Brazil, up to 2,000 indigenous women gathered in the capital Brasília this week to protest the policies of far-right President Jair Bolsonaro. Hundreds occupied a health ministry building Tuesday as they demanded the government respect indigenous rights and the Amazon. This is Joênia Wapichana, the first indigenous woman elected to the Brazilian Congress.
Joênia Wapichana: "Protest is an important act to defend the rights of indigenous peoples. We are under a series of systematic, violent attacks. There's the lack of demarcation of indigenous lands, the issue of health, education. This is all in danger. We are fighting against privatizing, for a fairer and quality education."
Pakistan Calls for U.N. to Step In over Kashmir Tensions as PM Imran Khan Visits Disputed Region
Pakistan's Prime Minister Imran Khan is in Kashmir today amid tensions with India over its move last week revoking the special status of the Indian-controlled part of the Muslim-majority region. Indian-administered Kashmir remains on lockdown. Pakistan is calling for the U.N. Security Council to meet over the escalating situation, which it says poses "an imminent threat" to peace in the region and could lead to "ethnic cleansing and genocide" if a major military confrontation erupts. During his visit, Imran Khan condemned India's actions but said, "We are not at war with India. We are against its ideology." On Tuesday, Amnesty International urged India to lift its restrictions on movement and communications in Kashmir, warning that "a complete clampdown on civil liberties is only likely to increase tensions, alienate the people and increase the risk of further human rights violations."
CBS

and Viacom Announce Merger

CBS and Viacom announced Tuesday they would rejoin forces after splitting in 2006. The two companies, along with Paramount Pictures studio, are attempting to head off competition from entertainment giants like Disney and streaming services including Netflix. The deal is the latest megamerger in the media world, after AT&T acquired Time Warner for $80 billion and Disney took over 21st Century Fox business for over $70 billion last year.